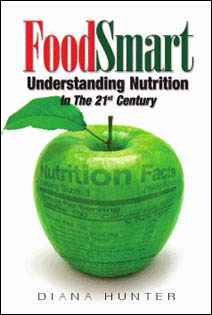 Please select the product you wish to purchase from the menu below and click Add to Cart. A new window will open with your selection. To add multiple products, simply select the second product and click add to cart.




FREE SHIPPING VIA MEDIA MAIL FOR U.S. ORDERS ONLY

To order by mail, send payment to:

Consumer Press
Order Department
13326 Southwest 28 Street
Ft. Lauderdale, FL 33330-1102

To order other titles, Please Call
954.370.9153 or 1-800-BOOKPLAN (1-800-266-5752)
To Speak With A Representative

FoodSmart: Understanding Nutrition in the 21st Century is an informative, easy-to-read guide designed to help you make sense of conflicting nutritional information and make educated dietary choices. Both enlightening and entertaining, it covers a wide variety of nutrition-related topics.